Maria, our founder was interviewed by Isabelle Lind from A Sustainable Closet
Isabelle Lind, one of the founders of A Sustainable Closet, wanted to interview us to make Canussa known to her audience.
A Sustainable Closet was born with
the purpose of redefining what fashion and style means. Their blog is full of inspirational stories about change makers, brands who are making the difference and so many fascinating interviews as the one you can read bellow.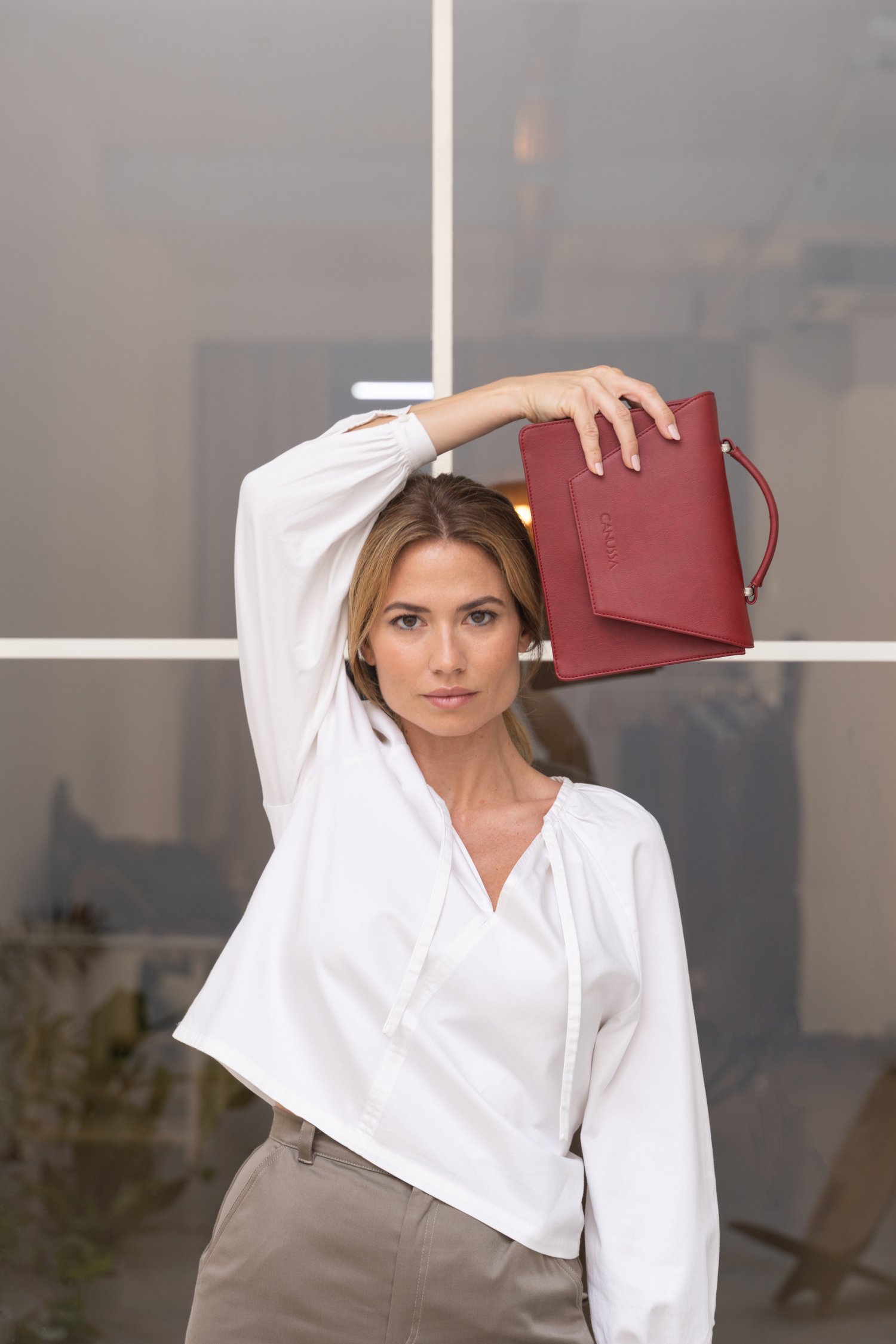 Canussa, welcome to A Sustainable Closet! It's great to have you onboard. Tell us about your brand and what makes your products sustainable?
It is not easy to define what is and what is not being sustainable. Canussa was born in 2017 with the objective of creating designer and functional accessories that were respectful with the planet and people, and to be as sustainable as possible. We believe being sustainable is not just about the fabrics we use but to be as respectful as we can with the environment and the people involved in the production process as much as possible.
 Since Canussa was born, we worked hard to test all the sustainable textiles available. It is still difficult to define what is a sustainable fabric as we have to take into consideration not just the composition but also the carbon, water and land footprints. On the other hand, we found that many of the organic fabrics do not last long. Creating sustainable fashion to us means as well to create fashion that lasts, as we believe this is the best way to contribute to responsible consumption. Consuming less of higher quality contributes to reducing up to 90% the waste we generate and the pollution involved in all the garments that we avoid buying. When we design accessories, quality and durability are some of the most important points in order to be sustainable. We also create designs that are timeless so you can wear them any time of the year for many years. We do not follow trends as we believe that programmed obsolescence is part of the cause of consumer over consuming.
From the social point of view, we manufacture all of our products locally in Spain at artisan workshops with whom we have a close relationship so we can ensure working conditions are fair and we contribute to creating stable jobs in Spain. We select all of our suppliers as close as possible in Spain so we reduce our carbon footprint as much as possible. We also plant one tree per product so we can neutralise our carbon footprint.
There are currently many speculations about vegan leather and if it's actually a better choice in terms of sustainability, what is your take on this?
Leather from animals has been the fabric most commonly used for centuries due to its elegance, quality and durability. Nowadays there is a discussion around what is more sustainable; leather from animals or vegan alternatives to leather. It is true that we could consider leather from animals and upcycled material as the animal usually does not get killed for the skin but for the food industry. The question is, we should not be consuming as much meat as we are if we want to reduce our carbon footprint as meat consumption (which is the mean source for leather) generates up to 20% of the greenhouse gas emissions. We should consider as well the quantity of water needed to tan leather from animals and also the chemicals needed to do so. Especially in countries like China or India where there are no regulations and the water is thrown into the rivers after the tanning process causing serious damage to the environment. Vegetal tanning could be an alternative option to chrome tanning but it needs more water and the quality is not as good as chrome tanned leather, on top of having a limitation of colors.
At the graphic attached you can see different fabrics and its impact. If we would compare which of the two options is more sustainable, I would say, it depends on which vegan alternative to leather and animal leather we are comparing.
Another discussion is, if you believe it is possible to fulfill your needs as a human being without consuming products that come from animals, this would be an ethical discussion.
At Canussa, we have got a compromise with PETA so we do not use any fabrics that come from animals. We have tried most of the vegan alternatives to leather. We have to say that most vegan alternatives to leather are not as resistant as leather and some of them claim to be organic while they only have 10% of organic composition. We have selected the vegan alternative to leather that is at the moment the most respectful as it has got OEK-TEX certification, it can be recycled (as it is a one composition fabric) and very importantly is the highest resistant vegan alternative to leather that we have found, even more resistant than leather!
Still we believe there is still a lot of work to be done, so we keep looking for the latest vegan alternative to leathers and we believe very soon we will see new and better options.
How and where are your beautiful products produced?
All of our products are made in Spain by qualified artisans with which we hold a close relationship. Producing a high quality bag or wallet is not easy, and in Spain we have got some of the best artisans worldwide. So by producing locally we are not only ensuring that the people involved in the production process work under fair working conditions, but we also can use the best quality and durability.
All of our suppliers are Spanish and we try to get the highest resistant fabrics with certification. Our vegan alternative to leather holds the OEKO-TEx certification and our recycled lining has got GRS. We are a Vegan PETA approved brand. We have got the BCorp certification with a score of 102.4 above the average.
Who is the typical Canussa person?
A typical Canussa girl/guy usually is a professional, that is seeking for a stylish daily basis solution, looks for comfort and functionality, he/she is concern about the current global situation regarding social and environmental issues and is considered a responsible consumer who understands the difference between a truly ethical and respectful brand to those who do greenwashing. He/she also values quality over quantity. 
What do you think needs to change in the fashion industry to make it more sustainable? 
I believe consumers need to lead the change. There are many brands that are creating sustainable fashion but they fail as a business because most consumers still prefer quantity over quality. 
As you can see on the graphic attached from a Kantar report, 82% of consumers saving money is their priority when purchasing. Even if there are many statistics that point out that consumers are very concerned about the environment and social issues, when it comes to the reality of consumption, these statistics are not reflected, low cost and fast fashion consumption are still on the top sellers.
I would highlight as well the damage that greenwashing is doing, as many consumers get confused and do not distinguish any more what it is and what is not being sustainable. I would say there should be a regulation to control greenwashing marketing campaigns. It will also be important to be more aware of what is behind a low cost garment.
What would you advise consumers who seek to create a more sustainable closet to do?
I would recommend them to approach sustainable stores and marketplaces that are not just merchants but also experts on sustainability so they can advise them on brands and products.
What's up next, do you have anything fun to share with our readers?
Not sure if it is fun, but we are very excited about our next circular project. We are working on a project to regenerate our accessories at the end of their lives so we can create new stylish products from waste that would end up in a landfill.